Automatic Weapons are a category of Projectile Weapons. They are essentially modern firearms and field artillery in that they use a chemical reaction to propel an unguided projectile to the target.
Fully automatic weapons
Edit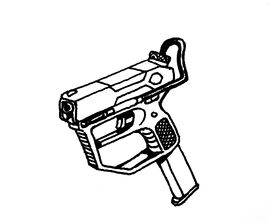 Fully automatic
weapons
are capable of
single shots
or
burst fire
at the flip of a switch. On many worlds, they are considered military or paramilitary weapons, and their possession or carrying may be regulated or prohibited. Examples of fully automatic weapons are:
Semiautomatic weapons
Edit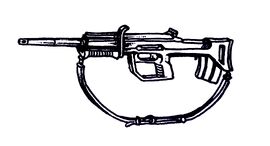 Semiautomatic weapons
are only capable of single shots and lack the burst fire setting of fully automatic firearms. Examples of semiautomatic weapons are:
Ammunition
Edit
Many modern models use non-reloadable bulletclips that are self-contained with projectiles, propellant and a small battery to interface with the pistol's ammo reader. Other models use reloadable magazines that use cased ammunition.
Protection
Edit
Skeinsuits and inertia screens reduce bullet damage by half. If a skeinsuit and an inertia screen are used together, damage is reduced to one-fourth the amount rolled.
Table of Automatic Weapons
Edit
Trending pages
All items (7)
Community content is available under
CC-BY-SA
unless otherwise noted.