Port Loren is believed to be the earliest colony founded on Gran Quivera. This sprawling capital city is home to the United Planetary Federation, the Office of the Prime Minister, the headquarters of PGC, Galactic Task Force, Inc. and Star Law as well as many other corporations and government offices.
Port Loren is often cited as "The Center of the Galaxy" although this is hardly true. The city is so vast that over one third of the planet's heavy population lives within it.
The map shows the downtown area of Port Loren. Areas to the east, west and south of the map are residential. The spaceport is to the north. (see Spaceport below) Each square on the map is 5 meters across.
Most large buildings (the Government Building, Pan-Galactic Corporation headquarters, the Medical Complex, etc.) extend several stories below the ground as well as two or three stories above the ground. Vehicles can access underground parking areas through entrance ramps and elevators (noted as IN or OUT in the map). Pedestrian walkways connect some buildings, and cross above the roads. The monorail is built above the buildings and walkways.
Although there are many types of vehicles on the road, the most common on Port Loren are hover cars. To help control the turning of hover vehicles at intersections, magnetic field generators built into the roads automatically reduce the speed of approaching vehicles to around 40kmph.
Downtown Port Loren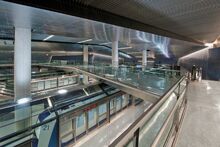 The monorail is the fastest way to travel long distances in the city. To get on the monorail, a rider takes a lift to the terminal and waits for a car to arrive. There are two tracks on each railway, both going in opposite directions. Monorail cars travel at 40-60kmph. Each car can hold up to six passengers. A rider wishing to shop or to travel in the opposite directions must wait for the car to stop at the text terminal to leave or wait for another car to arrive.
Riding the monorail costs 1 credit per day, and the rider can ride the monorail as many times as he wants that day. An ID Card is required to board the monorail.
Holo Theater
Dralasite Community Building

Grocery Mart
Dralasite Sensonium and Steam Bath
Third Debate and Comedic Society

Entertainment Building

Live Theater
Night-club and Casino
Bank

Central Hospital and Medical Complex
Connivance Building

Pharmacy
Liquor
Legal Office

Business Plaza
Pan Galactic Towers

Luxury Apartment Tower
PGC Office Tower

Convention Center
PGC Headquarters

Business Tower
Computer Service Tower
Communications
Files and Recreation
Lobby
Cafeteria
Holographic Shop
Robotic Repair

Transportation Complex

New/Used Vehicle Rental/Dealership
Apartment Tower
Security Building
Maintenance Service
Health Foods
Fitness Center

Port Loren Plaza

Offworld Clothing
Offworld Imports
Weapons
Cafe
Cleaners and Laundry
Yazirian Deil
Gifts
Auto and Hover Supply
Agricultural Equipment
Minting Equipment
Travel Services
Novelties
Vrusk Food
Jewelry
Construction
Hardware
Yazirian Clothing
Dralasite Snacks
Gromm's Nightclub
House Wares
Restaurant
Personal Grooming
Joke Shop
Planet News
Furniture Store
Art Gallery
Toys/Hobbies
Medical Supplies
Appliances
Sporting Goods
Hologames
Pub
Human Clothing
Holovision and Music
Electronic Repair
Bank
Bakery
Small Robots

Police Headquarters

Police Department
Jail
Star Law Office
Fire Department
City Computer

Stellar Tower Hotel Building

Stellar Tower Hotel
Offworld Transport
Global
Environmental Services
Polytech
Market
Office Equipment
Real Estate
Galactic News Service
Loans
Dental/Optical
Restaurant
Hardware/General Store
Repair Service
Weapons
Capellan Free Merchants

Spacer's Layover Area

Pharmacy
Gaming Hall
Spacer's Rest
Hole-in-the-wall
Shanghai Kell's
The Plutonium Nugget

Government Building
Public Library
Zoo
Entertainment Sub-District

[

edit

|

edit source

]
This is a place to watch movies, plays, concerts, life debates, stand-up acts, etc. Entertainment comes form all across the frontier.
Central Hospital and Medical Complex

[

edit

|

edit source

]
This is one of the most prominent medical facilities in the planet.
Pan Galactic Business Sub-District

[

edit

|

edit source

]
Before moving most of their operations to the Pan-Gal system, this was the primary headquarters of the Pan-Galactic Corporation. Right now, this set of buildings stands as a presence and landmark within the frontier. Do to what this building represents -- targets for terrorism and espionage -- they are well secured by PGC-owned corporate security forces. The buildings contains their office and apartment buildings for the planet. The Pan Galactic Towers are iconic landmarks for the city, and recognized throughout the frontier from media set within Port Loren.
This outdoor mall is the commercial hub of the Frontier Sector. The locally-own stores sell wares form all across the frontier.
This is the headquarters to the city's Police and Fire Departments, the local jail, the city's mainframe network, and is the primary headquarters of Star Law. Do to what this building represents, it is one of the most well-secured areas within the city.
This is building is the seat of local and planetary government. Due to what this building represents, it is one of the most well-secured areas within the city.
Stellar Tower Hotel Building

[

edit

|

edit source

]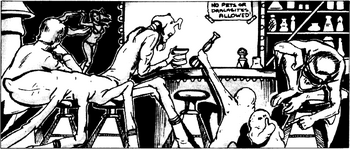 This is an indoor mall, centered around a hotel. The dome is just as iconic of a landmark as the Pan Galactic Towers.
This is a seedy area within the city. Here you can find bars, betrothals and casinos frequented by planet-side spacers.
Commercial Buildings

Human Clothing
Technology Store
Bank
Computers
Deli
Cafe
Imports
Travel Services
Dralasite Meeting Society
Starport Hotel
Luxury Hotel
Gifts
Parkade

Starport Administration Building
Port Loren Spaceport

Orbital/Planetary Departures
Departures
Planetary Arrivals
Orbital Arrivals
Waiting Rooms (3)
Vehicle Rental
Starport Security
Secured Areas (4)
Terminal Pod #1
Terminal Pod #2

Local Administration Building
Local Terminal Building

Local Terminal
Transair Terminal
Immigration Terminal
Immigration Services
Local Terminal Pad

Starport Maintenance
Robot Maintenance
Traffic Control Tower
Guard Stations (6)
Parkade Building #1
Parkade Building #2
Vehicle Supply Buildings (3)
Court House
Public Library
Mid-Town Apartments
Hover and Ground Cycle Shop
Above Ground Packing Structure
Building Complex A

Furniture Showroom
Buildings #1-14
The Pit Shop (#15)

Building Complex B
Unknown Buildings (south edge)
While it is established canon that the spaceport is northwards of downtown Port Loren, the map, and Warehouse District are not canon.
↑ See Public Transportation for more information.
↑

Concept art for Star Citizen by Nocilas Ferrand.

↑

Map is rotated so that north is facing left
Community content is available under
CC-BY-SA
unless otherwise noted.