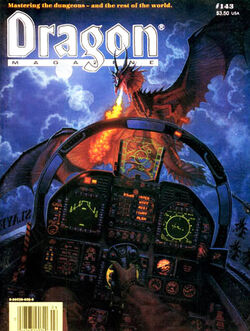 Since its inception, Star Frontiers featured prominently in role-playing game trade publications, from TSR's Dragon and Polyhedron, to some of the less known local magazines. Herein, these articles are catalogued for reference.
Dragon Magazine
Edit
From September 1982 (issue #65) to September 1989 (issue #149), Star Frontiers had a strong presence in TSR's house publication: Dragon Magazine, introducing new races, new rules and answering questions from players.
An article in the 1998 Annual issue included conversion rules and advice to run Star Frontiers under the Alternity rules, which had been released by TSR (under WoTC) that same year as their flagship Science Fiction game ruleset.
Issue
#
Article
Subject
#65
Blastoff! First Look at SF
Review
#74
The SF 'Universe'
Detailed Review
#84
The Zethra
New Race
#85
StarQuestions
Q & A
#86
Fast and Deadly
Starships
#87
Freeze! Star Law!
Law Enforcement
#88
Battle of Ebony Eyes
Mini-Module
#88
StarQuestions
Q & A
#88
Yachts and Privateers Return
Starships
#89
The Mighty Mega-Corporations
Mega-Corps History
#90
Mega-Corporations of the Frontier
Mega-Corps History
#91
Careers in Star Law
Law Enforcement
#91
Day of the Juggernaut
Mini-Module
#92
StarQuestions
Q & A
#93
Rare Wines and Ready Cash
Agricultural Trade
#94
From Anarchy to Empire
Governments
#95
The Zuraqqor Strike Back
New Race
#96
The Coming of the S'sessu
New Race
#97
StarQuestions
Q & A
#98
StarQuestions
Q & A
#98
The Volturnus Connection
Volturnus
#99
Tanks a Lot!
Vehicle Combat
#102
SilverTwin
Star Law Vehicles
#103
The Saurians
New Race
#103
Tanks Again!
Vehicle Combat
#104
Star Law Returns
Law Enforcement
#105
Expanding the Frontier
Exploring
#107
Tote That Barge!
Interstellar Economics
#108
Old Yazirians Never Die
Age and Aging
#109
Patriots, Terrorists, & Spies
Cults
#110
Going For a Swim?
Underwater Adventures
#112
For a Fistfull of Credits
New Items
#115
An Interstellar Armory
New Starship Weapons
#120
Here Comes the Cavalry
Warfare
#122
The Leader of the Pack
Leadership
#123
The Whole-Earth Ecology
Aliens
#124
A Shot in the Arm
Damage System
#125
Second Look at Zebulon's Guide
Zebulon Errata
#129
Armored and Dangerous
Powered Armor
#132
The Frontiers of Design
Starship Building System
#135
Sage Advice
Q & A
#136
Damage Control-Report!
Starship Combat
#139
"Jetboots, Dont fail me now!"
Revised movement rules
#144
Sage Advice
Q & A
#419
From Freighters to Flying Boats
Oceangoing vessels
1998
Annual
Alternate Frontiers
Conversion rules for Alternity
Polyhedron Magazine
Edit
The official RPGA (Role Playing Gamer's Association) publication had a lower circulation than Dragon, but between November 1982 (issue #9) and 1986 (issue #31), no fewer than 22 articles featured Star Frontiers, including twelve "Dispel Confusion" Q & A columns.
Issue
#
Article
Subject
#9
Star Frontiers Review
Review
#9
Encounters
Random Encounters
#10
Dispel Confusion
Q & A
#11
Dispel Confusion
Q & A
#12
Knight Hawks: A New Dimension
Review
#13
Raid on Theseus
Mini-Module
#13
Dispel Confusion
Q & A
#14
Ambush on Lossend
Mini-Module
#14
Dispel Confusion
Q & A
#15
Dispel Confusion
Q & A
#16
Dispel Confusion
Q & A
#18
Layover at Lossend
Mini-Module
#18
Dispel Confusion
Q & A
#19
The Laser Pod
KH Equipment
#19
Dispel Confusion
Q & A
#20
The Proton Beam
Equipment
#20
Dispel Confusion
Q & A
#21
Take Command of a Titan!
Knight Hawks
#22
Of Great Ships and Captains
Knight Hawks
#22
Dispel Confusion
Q & A
#27
Dispel Confusion
Q & A
#31
Dispel Confusion
Q & A
Arēs Magazine
Edit
Prior to becoming a section on Dragon Magazine, Arēs was a fully independent magazine devoted to science fiction gaming. After issue #11, it was bought out by TSR, which published an additional six issues before turning it into the science fiction section of Dragon. The last independent issue (#17) was published early in 1984 and included two articles relating to Star Frontiers.
Issue
#
Article
Subject
#17
Yazirian Cultural Weapon
Equipment
#17
Miniature Use
Miniature rules
Spl.Ed.#2
Frontiers of the Mind[1]
Psionics
Notes & References
Edit
↑

By Jon Mattson
Community content is available under
CC-BY-SA
unless otherwise noted.