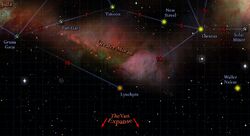 The Vast Expanse (commonly called the Expanse) is a region of space outside the Frontier beyond the Greater Morass. It was so named in 8 PF after the loss of hundreds of exploration vessels in that region over the previous eleven years.[1]
In 82 FY, the remains of Sathar Fleet #3 were forced to retreat into the Expanse.
It is commonly believed that most Frontier races came from somewhere in or beyond the Expanse.
Notes and References
Edit
↑ Zebulon's Guide to Frontier Space Timeline
Community content is available under
CC-BY-SA
unless otherwise noted.